Aucuba japonica 'Jungle Girl'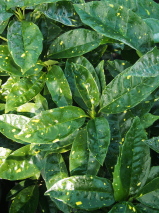 CATALOGUE DESCRIPTION
Large shrub which forms a dense bushy habit, with bold dark green leaves slightly marked with gold. Small clusters of olive green flowers followed by very dark crimson-red berries in autumn.Female plant. Excellent tub plant. Always plant in a site protected from full or very hot sun. Will grow in dry shady sites, hardy to frost. Trims well to shape. Good to brighten a shady corner.

Aucuba
Species japonica
Cultivar 'Jungle Girl'
Japanese Laurel
Cornaceae
Japan
DETAILS
1.5 m
1 m
(expected growth in average NZ conditions in 5 to 10 years)
Evergreen
Grows in most soil types / Needs well drained soil
Tolerates dry soils
Grows in part or full shade. / Prefers a sheltered site / Will tolerate very hard frosts.
Immaculate / Magnificent / Nourishment / Sanctuary / Texture
Shrubs
Medium, height between 1.5 to 3 metres
All our current stock has been dispatched out to retailers. If they have none left for you, we are growing another crop to supply as soon as possible.
Where to buy our plants