Pimelia prostrata. 'Anatoki Blue'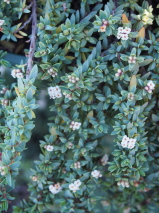 CATALOGUE DESCRIPTION
Excellent native very prostrate ground cover with fine blue leaves on long stems. Forms a dense mat. A mass of creamy white flowers in spring cover the plant, with a smattering of flowers throughout summer. Good for draping over walls and rocks. Best in a sunny warm site with very well drained soil. Tolerates dry. Hardy to cold.

Pimelia
Species prostrata.
Cultivar 'Anatoki Blue'
Pinatoro, wharengarara
Thymelaeaceae
New Zealand
DETAILS
15 cm
60 cm
(expected growth in average NZ conditions in 5 to 10 years)
Evergreen
Grows in most soil types / Grows in sandy soils
Soil must be well drained
Grows in exposed or coastal sites. / Grows in sun or semi-shade / Will tolerate moderate frosts
Immaculate / Indigenous / Sanctuary / Texture / Whimsical
Shrubs
Prostrate or creeping.
All our current stock has been dispatched out to retailers. If they have none left for you, we are growing another crop to supply as soon as possible.
Where to buy our plants