Agapanthus praecox 'Finn'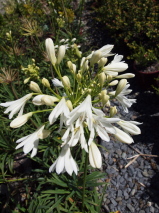 CATALOGUE DESCRIPTION
An easily grown perennial with neat green strappy leaves. Attractive pure white flowerheads that bloom for months on end. An eco friendly low fertlity variety that is self infertile. Clusters of white flowers on tall stems through the summer. Great for hot dry gardens, as an edging or for difficult sites. Bred by Ian Duncalf, Tauranga and named after his son.

Agapanthus
Species praecox
Cultivar 'Finn'
African Lily
Liliaceae
South Africa
DETAILS
50 cm
50 cm
(expected growth in average NZ conditions in 5 to 10 years)
Evergreen
Grows in clay soils / Grows in most soil types / Grows in sandy soils
Soil must be well drained / Tolerates dry soils
Grows in exposed or coastal sites. / Prefers a sunny site / Will tolerate light frost only
Immaculate / Sanctuary / Structure / Texture / Whimsical
Perennials
Small, height up to 0.6 metres.
All our current stock has been dispatched out to retailers. If they have none left for you, we are growing another crop to supply as soon as possible.
Where to buy our plants