Clematis x jackmanni 'The Vagabond'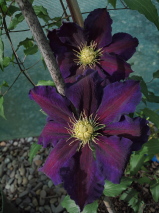 CATALOGUE DESCRIPTION
Spectacular deciduous climber. Tiny and compact. Deep burgundy purple flowers with a maroon bar and contrasting cream stamens, flowering spring and autumn. Great for climbing through trees. Very pretty. They flower on new season's growth, so prune back to two strong buds late winter. Best results from good pruning, top in full sun, and with the roots planted in the shade.

Clematis
Species x jackmanni
Cultivar 'The Vagabond'
Cematis
Ranunculaeae
Japan
DETAILS
3 m
2 m
(expected growth in average NZ conditions in 5 to 10 years)
Deciduous
Needs well drained soil / Prefers good loamy soil
Prefers even soil moisture
Cool roots / sunny top / Must be sheltered from wind. / Will tolerate very hard frosts.
Enthusiast / Nourishment / Paradise / Sanctuary / Whimsical
Climbers
Twining stems or curling tendrils, under 5 metre.
All our current stock has been dispatched out to retailers. If they have none left for you, we are growing another crop to supply as soon as possible.
Where to buy our plants