Chamaecyparis obtusa 'Confucius'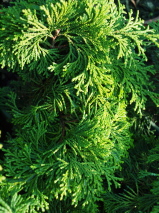 CATALOGUE DESCRIPTION
Small shrub with golden-yellow foliage which darkens to emerald-green as it matures, giving it a bronzed-orange color in the winter. It has an open, tiered habit with tight fans of growth, slightly curled at the edge and dotted with small, spherical cones late in the year. First introduced by a Duncan and Davis in 1984. It prefers moist, well-drained soil with afternoon shade in the summer.

Chamaecyparis
Species obtusa
Cultivar 'Confucius'
Hinoki Cypress
Cupressaceae
United States
DETAILS
1 m
1 m
(expected growth in average NZ conditions in 5 to 10 years)
Evergreen
Grows in most soil types / Prefers good loamy soil
Avoid dry soils / Soil must be well drained
Prefers a semi-shaded site / Will tolerate very hard frosts.
Immaculate / Sanctuary / Structure / Texture
Shrubs
Small, height between 1 and 1.5 metres.