Euphorbia griffithii 'Fireglow'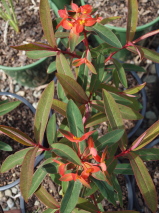 CATALOGUE DESCRIPTION
Bushy perennial with creeping rhizomatous stems. Tall stems clothed in long mid-green leaves with red midribs emerge in spring. Early summer these are topped by small yellow flowers surrounded by brilliant hot orange-scarlet bracts. Very colourful and interesting. Hardy to cold, prefers a sunny site. Will grow in most soils, though does thrive in moist conditions. Will spread if conditions ideal.

Euphorbia
Species griffithii
Cultivar 'Fireglow'
Spurge
Euphorbiaceae
Himalaya
DETAILS
60 cm
60 cm
(expected growth in average NZ conditions in 5 to 10 years)
Deciduous
Grows in most soil types
Prefers moist soil / Soil must be well drained / Tolerates dry soils
Grows in sun or semi-shade / Will tolerate very hard frosts.
Texture / Whimsical
Perennials
Small, height up to 0.6 metres.