Aristea major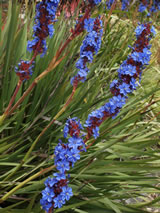 CATALOGUE DESCRIPTION
Clumping perennial with tall green sword-like leaves. In spring tall spikes grow clustered with intense blue flowers. Very showy. Grow in free draining soil, in a semi-shaded site. Tolerates some frost and dry once established.

Aristea
Species major
Cultivar
Aristea
Iridaceae
South Africa
DETAILS
1 m
1 m
(expected growth in average NZ conditions in 5 to 10 years)
Evergreen
Grows in most soil types
Soil must be well drained
Prefers a semi-shaded site / Tolerates some frost
Magnificent / Texture
Perennials
Medium, height 0.6 to 1.2 metres.