Aloe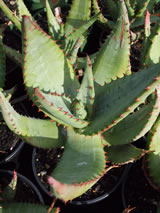 CATALOGUE DESCRIPTION
Tall single stemmed Aloe with spiny dull green leaves forming a rosette. Large candelabra spikes of red flowers in winter, providing food for bees and birds. Must have free draining soil in a warm sunny site. Tolerates some frost. Has some medicinal qualities.

Aloe
Species
Cultivar
Red aloe
Aloeaceae
South Africa
DETAILS
2 mt
1 mt
(expected growth in average NZ conditions in 5 to 10 years)
Evergreen
Needs well drained soil
Tolerates dry soils
Prefers a sunny site / Tolerates coastal sites / Tolerates exposed sites. / Tolerates some frost
Nourishment / Structure
Succulents
Large, height over 1 metre.
All our current stock has been dispatched out to retailers. If they have none left for you, we are growing another crop to supply as soon as possible.
Where to buy our plants