Aloe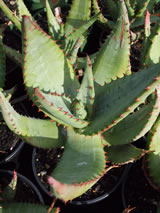 CATALOGUE DESCRIPTION
Succulent famous for it's medicinal qualities. Tall single stmmed Aloe with spiny dull green leaves forming a rosette. Large candelabra spikes of red flowers in winter, providing food for bees and birds. Must have free draining soil in a warm sunny site. Tolerates some frost.

Aloe
Species
Cultivar
Red aloe
Aloeaceae
South Africa
DETAILS
2 mt
1 mt
(expected growth in average NZ conditions in 5 to 10 years)
Evergreen
Needs well drained soil
Tolerates dry soils
Prefers a sunny site / Tolerates coastal sites / Tolerates exposed sites. / Tolerates some frost
Nourishment / Structure
Succulents
Large, height over 1 metre.