Leptospermum 'Tickled pink'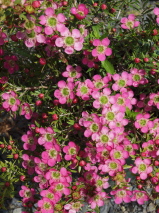 CATALOGUE DESCRIPTION
It is a medium shrub which grows to about 2 metres high with an upright growth habit. It has narrow green leaves. The large 5-petalled, brilliant pink flowers have a green centre. This plant can be expected to be a hardy shrub for moist soils in temperate climates. Plants prefer full sun or partial shade and may be pruned severely if necessary. Bred at Bywong Nursery in New South Wales.

Leptospermum
Species
Cultivar 'Tickled pink'
Hy 2 x 1 .5 mt
Leptospermum polygalifolium 'Cardwell' x Leptospermum 'Rhiannon'.
Myrtaceae
DETAILS
2 m
1.5 m
(expected growth in average NZ conditions in 5 to 10 years)
Shrubs
Medium, height between 1.5 to 3 metres