Hydrangea paniculata 'Tardiva'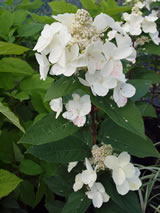 CATALOGUE DESCRIPTION
Dense vigorous multi-stemmed large shrub with soft bright green leaves. In late summer the shrub is covered with large panicles, up to 30 cm long, of creamy-white flowers, mixed with cream fertile florets , these turn pale pink with age. Very pretty. Severe pruning in the spring encourages a good flowering. Thin out crowded stems in late winter. Hardy for cold sites. Best in semi-shade, with good soil moisture.

Hydrangea
Species paniculata
Cultivar 'Tardiva'
Peegee hydrangea
Hydrangeaceae
China/Japan
DETAILS
.2 m
1 m
(expected growth in average NZ conditions in 5 to 10 years)
Deciduous
Grows in most soil types
Prefers even soil moisture
Prefers a semi-shaded site / Will tolerate very hard frosts.
Magnificent / Sanctuary / Whimsical
Shrubs
Medium, height between 1.5 to 3 metres