Camellia hybrid 'Nicky Crisp'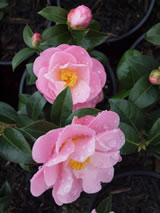 CATALOGUE DESCRIPTION
Large attractive shrub with an erect growing habit. Lustrous leathery dark green leaves. In winter and spring beautiful pale lavander pink semi-double flowers appear along the branches. Very hardy though thrives in good loamy soil that does not get too dry. Prefers a semi-shaded sheltered site.

Camellia
Species hybrid
Cultivar 'Nicky Crisp'
Camellia
Theaceae
Asia
DETAILS
2 m
1 m
(expected growth in average NZ conditions in 5 to 10 years)
Evergreen
Grows in most soil types / Needs well drained soil / Prefer good loamy soil
Prefers even soil moisture
Frost hardy / Grows in sun or semi-shade
Immaculate / Magnificent / Sanctuary / Texture / Whimsical
Shrubs
Medium, height between 1.5 to 3 metres
All our current stock has been dispatched out to retailers. If they have none left for you, we are growing another crop to supply as soon as possible.
Where to buy our plants