Brunfelsia latifolia 'Tiny Dancer'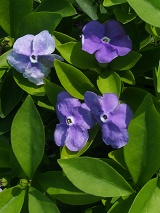 CATALOGUE DESCRIPTION
Compact colourful bushy shrub with a rounded cushion of purple-green leaves. Masses of sweetly fragrant saucer-shaped purple-blue flowers which fade to white, throughout spring into the summer. Prefers a warm semi-shaded site with good moisture in the growing season. Avoid cold or frosty sites.

Brunfelsia
Species latifolia
Cultivar 'Tiny Dancer'
Yesterday-Today-and-Tomorrow
Solanaceae
Tropical America
DETAILS
60 cm
60 cm
(expected growth in average NZ conditions in 5 to 10 years)
Evergreen
Grows in most soil types / Needs well drained soil / Prefers good loamy soil
Water well in summer / keep dry in winter
Prefers a semi-shaded site / Tolerates light frost only
Immaculate / Sanctuary / Texture / Whimsical
Shrubs
Dwarf, height 0.3 and 1 metre.