Gazania rigens 'Takatu Red'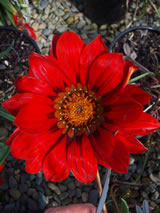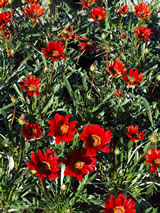 CATALOGUE DESCRIPTION
Hardy decumbent perennial with long green leaves. It forms a wide flat clump. Large daisy-like red flowers with a black centre throughout the summer. Very hardy for dry sunny sites, extremely drought tolerant.

Gazania
Species rigens
Cultivar 'Takatu Red'
Treasure flower
Compositae
South Africa
DETAILS
30 cm
50 cm
(expected growth in average NZ conditions in 5 to 10 years)
Evergreen
Grows in most soil types
Tolerates dry soils
Prefers a sunny site / Tolerates some frost
Flowering perennial / Ground cover plants for sun / Plants for coastal sites
Perennials
Small, height up to 0.6 metres.
All our current stock has been dispatched out to retailers. If they have none left for you, we are growing another crop to supply as soon as possible.
Where to buy our plants