Dymondia margaretae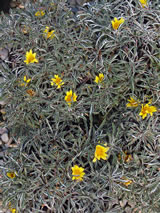 CATALOGUE DESCRIPTION
Very flat mat forming ground cover with silvery leaves. Nestled in the foliage are yellow daisy flowers through the summer. Very hardy once established, good for low traffic areas, between stepping stones. Plant in a weed free site for best results.

Dymondia
Species margaretae
Cultivar
Silver carpet
Compositae
South Africa
DETAILS
10 cm
50 cm
(expected growth in average NZ conditions in 5 to 10 years)
Evergreen
Grows in most soil types
Tolerates dry soils
Grows in exposed or coastal sites. / Prefers a sunny site / Will tolerate very hard frosts.
Immaculate / Nourishment / Sanctuary / Texture / Whimsical
Perennials
Small, height up to 0.6 metres.