Leucadendron salignum 'Julie'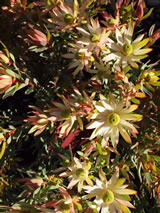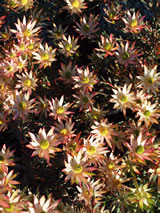 CATALOGUE DESCRIPTION
Densely erect bushy shrub. It has fine light green foliage that goes bronze in winter. In spring wide bracts emerge a cream colour flushed with reddish-bronze tones. The stems are medium length and great for floral work. Very showy and lasts through the spring. To maintain bushy habit, prune back stems in late spring. Best in a sunny site in well drained soil, tolerates dry conditions once established.

Leucadendron
Species salignum
Cultivar 'Julie'
Cone flower
Proteaceae
South Africa
DETAILS
1 m
1 m
(expected growth in average NZ conditions in 5 to 10 years)
Evergreen
Avoid fertilisers with phosphate / Grows in most soil types / Needs well drained soil
Tolerates dry soils
Prefers a sunny site / Tolerates coastal sites / Will tolerate moderate frosts
Texture / Whimsical
Shrubs
Small, height between 1 and 1.5 metres.