Brachyglottis monroi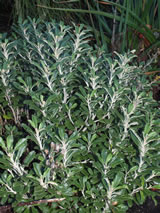 CATALOGUE DESCRIPTION
Neat compact low spreading shrub with leaves a green to brownish-green above and whitish below. The margins of the leaves are distinctly crinkled. Superb plant in any landscape. Clusters of bright yellow flowers in summer. Hardy will grow in sun or shade, and toleran of dry conditions. Ocurs naturally in mountain to subalpine scrublands and rocky places in Marlborough and North Canterbury.

Brachyglottis
Species monroi
Cultivar
Senecio
Compositae
New Zealand
DETAILS
60 m
60 m
(expected growth in average NZ conditions in 5 to 10 years)
Evergreen
Grows in most soil types / Grows in sandy soils / Needs well drained soil
Tolerates dry soils
Will tolerate very hard frosts.
Indigenous / Sanctuary / Texture / Whimsical
Shrubs
Dwarf, height 0.3 and 1 metre.