Bouvardia longiflora 'Humboldtii'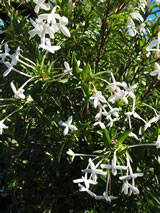 CATALOGUE DESCRIPTION
A soft stemmed shrub with long arching branches that will establish into a dense bushy mound. Throughout the warm months it will be covered in exquisitely scented cream tubular flowers. Evergreen in warm climates. Needs a warm sheltered site, sun or semi-shade, and protection from wind. Tolerates light frost. Best to trim stems back hard before the new growth comes in early spring.

Bouvardia
Species longiflora
Cultivar 'Humboldtii'
Bouvardia
Rubiaceae
Mexico
DETAILS
1 m
1 m
(expected growth in average NZ conditions in 5 to 10 years)
Semi-deciduous
Grows in most soil types / Needs well drained soil
Tolerates dry soils / Water well in summer / keep dry in winter
Grows in sun or semi-shade / Must be sheltered from wind. / Tolerates light frost only
Paradise / Sanctuary / Texture / Whimsical
Shrubs
Small, height between 1 and 1.5 metres.