Epimedium x warleyense 'Soft Apricot'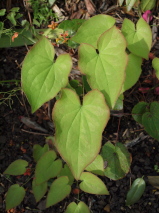 CATALOGUE DESCRIPTION
Compact ground cover perennial that slowly spreads by rhizomatous branches. The heart shaped leaves on thin stiff stems, emerge bronze, turning green in late spring. Tiny dainty spurred blooms of soft apricot on wiry stems in spring. Prefers semi-shade or shade, thriving in a moist woodland situation. It will tolerate dry and some sun.

Epimedium
Species x warleyense
Cultivar 'Soft Apricot'
Barrenwort
Berberidaceae
Garden origin
DETAILS
40 cm
40 cm
(expected growth in average NZ conditions in 5 to 10 years)
Evergreen
Grows in most soil types / Prefers good loamy soil
Prefers even soil moisture / Prefers moist soil
Frost hardy / Grows in part or full shade.
Flowering perennial / Ground cover plants for shade
Perennials
Small, height up to 0.6 metres.