Rhododendron vireya 'Red Mountain'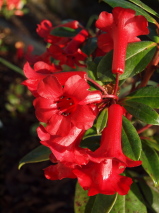 CATALOGUE DESCRIPTION
These tropical shrubs are semi-epiphytic, perching high in tree tops in the forests of South East Asia. Glossy lush mid-green foliage. Compact and semi-spreading habit. Rich dark ruby red bell-like flowers. Flowering twice a year, autumn/winter and spring/summer. Prefers a warm semi-shaded site, protected from frost. Removing dead flowers encourages repeat flowering. Great for containers, performs best with restricted root growth.

Rhododendron
Species vireya
Cultivar 'Red Mountain'
Rhododendron
R. commonae x R. viriosum
Ericaceae
South East Asia
DETAILS
1 m
1 m
(expected growth in average NZ conditions in 5 to 10 years)
Evergreen
Prefers acidic / lime-free soil. / Prefers good loamy soil
Prefers even soil moisture / Soil must be well drained
Does not tolerate frost. / Must be sheltered from wind. / Prefers a semi-shaded site
Shrubs
Dwarf, height 0.3 and 1 metre.
All our current stock has been dispatched out to retailers. If they have none left for you, we are growing another crop to supply as soon as possible.
Where to buy our plants