Hydrangea arborescens 'Annabelle'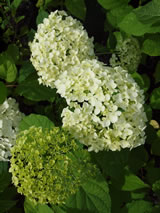 CATALOGUE DESCRIPTION
A spectacular flowering shrub with a bushy but rather untidy habit. The leaves are bright green and soft. Extremely large heads of cream flowers through the summer. Heads tend to droop while the plant is still young. It prefers semi-shade and shelter from wind. Very hardy though does not thrive in dry conditions. Best to thin the stems out in winter if they get too crowded in.

Hydrangea
Species arborescens
Cultivar 'Annabelle'
Snowhill hydrangea
Hydrangeaceae
United States
DETAILS
1.5 m
1 m
(expected growth in average NZ conditions in 5 to 10 years)
Deciduous
Grows in most soil types
Prefers even soil moisture
Must be sheltered from wind. / Prefers a semi-shaded site / Will tolerate very hard frosts.
Magnificent / Sanctuary / Whimsical
Shrubs
Small, height between 1 and 1.5 metres.
All our current stock has been dispatched out to retailers. If they have none left for you, we are growing another crop to supply as soon as possible.
Where to buy our plants