Ribes laurifolium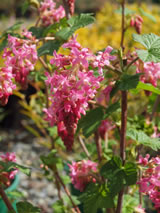 CATALOGUE DESCRIPTION
Lovely shrub, often found in older gardens. Erect branches are covered with maple like downy leaves which are mid-green with good yellow colour in autumn. Early in spring the branches have clusters of spicy fragrant rose-pink flowers. Thin out older flowering stems occasionally, as it will flower on one year old wood. Very hardy, needs well drained soil and some sun. Deciduous.

Ribes
Species laurifolium
Cultivar
Winter current
Grossulariaceae
United States
DETAILS
2 m
2 m
(expected growth in average NZ conditions in 5 to 10 years)
Deciduous
Grows in most soil types / Needs well drained soil
Prefers even moisture / Tolerates dry soils
Grows in sun or semi-shade / Will tolerate very hard frosts.
Nourishment / Sanctuary / Whimsical
Shrubs
Medium, height between 1.5 to 3 metres