Dietes iridioides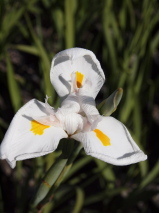 CATALOGUE DESCRIPTION
This clump forming perennial is found naturally in dry bushland. It has tall sword-shaped green foliagewhich grows into a spreading fan. Tall stems of large showy white iris-like flowers with marked blue and orange-yellow markings through the spring and summer. Tolerates sunny dry sites and poor soil. Avoid cold frosty sites and sites that get wet in winter. Provides a strong vertical element in the garden.foliage.

Dietes
Species iridioides
Cultivar
Wild Iris
Iridaceae
South Africa
DETAILS
1 m
.5 m
(expected growth in average NZ conditions in 5 to 10 years)
Evergreen
Grows in most soil types / Needs well drained soil
Tolerates dry soils
Grows in sun or semi-shade / Will tolerate light frost only
Structure / Texture / Whimsical
Perennials
Medium, height 0.6 to 1.2 metres.
All our current stock has been dispatched out to retailers. If they have none left for you, we are growing another crop to supply as soon as possible.
Where to buy our plants