Metrosideros umb x rob 'Sentinel Flame'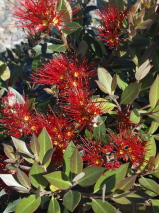 CATALOGUE DESCRIPTION
A natural hybrid between Northern and Southern Rata, discovered by Graeme Platt. Over time it forms an dense, upright tree. The small pointed shiny leaves emerge bronze maturing to mid-green. Showy clusters of bright red flowers cover the tree in summer. It is more frost tolerant than Pohutukawa, though may need protection whem young. Hardy to a range of soil types and sites, though will grow best in good soils with good soil moisture.

Metrosideros
Species umb x rob
Cultivar 'Sentinel Flame'
Hybrid Rata
M. robusta x M. umbellata
Myrtaceae
New Zealand
DETAILS
8 m
3 m
(expected growth in average NZ conditions in 5 to 10 years)
Evergreen
Grows in most soil types / Prefers good loamy soil
Prefers even soil moisture
Frost hardy / Grows in sun or semi-shade
Trees
Medium 10 to 18 metre.