Deschampsia caespitosa 'Daybreak'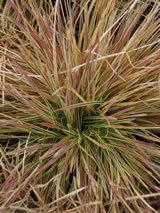 CATALOGUE DESCRIPTION
Distinctive tussock forming perennial grass with long narrow green leaves margins a yellow pinkish colour. Light elegant and glistening silvery-green spikes of flowers in summer. Grows best in semi-shade, with good soil, avoide very dry sites. Moist woodland would be its natural habitat.

Deschampsia
Species caespitosa
Cultivar 'Daybreak'
Tufted hair grass
Gramineae
Africa/Europe
DETAILS
60 cm
60 cm
(expected growth in average NZ conditions in 5 to 10 years)
Evergreen
Grows in most soil types / Prefers good loamy soil
Prefers even soil moisture
Prefers a semi-shaded site / Will tolerate very hard frosts.
Sanctuary / Texture / Whimsical
Grasses, sedges and flaxes.
Small, height less than 0.6 metres.
All our current stock has been dispatched out to retailers. If they have none left for you, we are growing another crop to supply as soon as possible.
Where to buy our plants