Deschampsia caespitosa 'Daybreak'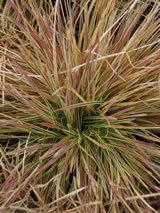 CATALOGUE DESCRIPTION
Distinctive tussock forming perennial grass with long narrow green leaves margins a yellow pinkish colour. Light elegant and glistening silvery-green spikes of flowers in summer. Grows best in semi-shade, with good soil, avoide very dry sites. Moist woodland would be its natural habitat.

Deschampsia
Species caespitosa
Cultivar 'Daybreak'
Tufted hair grass
Gramineae
Africa/Europe
DETAILS
60 cm
60 cm
(expected growth in average NZ conditions in 5 to 10 years)
Evergreen
Grows in most soil types / Prefers good loamy soil
Prefers even soil moisture
Prefers a semi-shaded site / Will tolerate very hard frosts.
Sanctuary / Texture / Whimsical
Grasses, sedges and flaxes.
Small, height less than 0.6 metres.