Blechnum discolour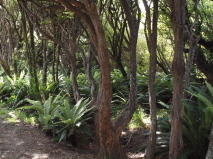 CATALOGUE DESCRIPTION
A large tufted fern with a stem up to 50cm high once mature. Forms a dense crown of fronds spreading in an open cup. Upper frond surface is polished bright green, lower surface is dull whitish. They can spread by underground creeping stems, building up dense patches of solid fern. Prefers a semi-shaded site. Hardy.

Blechnum
Species discolour
Cultivar
Crown fern
Blechnaceae
New Zealand
DETAILS
1 m
1 m
(expected growth in average NZ conditions in 5 to 10 years)
Evergreen
Grows in most soil types
Prefers moist soil / Tolerates dry soils
Prefers a semi-shaded site / Tolerates some frost
Indigenous / Magnificent / Sanctuary / Texture
Ferns
Medium, 1 metre to 3 metres.
All our current stock has been dispatched out to retailers. If they have none left for you, we are growing another crop to supply as soon as possible.
Where to buy our plants