Pieris japonica 'Little Heath'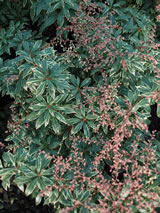 CATALOGUE DESCRIPTION
A special plant for a semi-shaded spot. Fresh bronze young foliage that matures to variegated green and cream leaves. Panicles of fragrant white bell flowers with a hint of rose at the tips make quite a show in spring. Looks good all year round. Happiest in a good soil that does not dry out and in semi-shade. Evergreen.

Pieris
Species japonica
Cultivar 'Little Heath'
Lily of the valley bush
Ericaceae
China
DETAILS
1 m
1 m
(expected growth in average NZ conditions in 5 to 10 years)
Grows in most soil types / Needs well drained soil / Prefers acidic / lime-free soil.
Prefers even soil moisture
Prefers a semi-shaded site / Will tolerate very hard frosts.
Immaculate / Sanctuary / Texture / Whimsical
Shrubs
Small, height between 1 and 1.5 metres.
All our current stock has been dispatched out to retailers. If they have none left for you, we are growing another crop to supply as soon as possible.
Where to buy our plants