Juniperus horizontalis 'Blue Chip'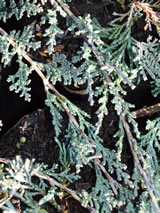 CATALOGUE DESCRIPTION
Superior evergreen groundcover with silver-blue foliage on a widely spreading habit. The foliage retains its rich color all year long. Lovely when planted around boulders or in rock gardens, where its twisted branches can be trained to unique forms. A reliable plant for extreme climates. Thrives in rocky soils or the sandy gravel. Use on slopes for coverage or erosion control. Plant along retaining walls and curbs, where the creeping foliage will cover year-round.

Juniperus
Species horizontalis
Cultivar 'Blue Chip'
Creeping Juniper
Cupressaceae
North American
DETAILS
20 cm
100 cm
(expected growth in average NZ conditions in 5 to 10 years)
Evergreen
Grows in most soil types / Grows in sandy soils
Tolerates dry soils
Grows in exposed or coastal sites. / Prefers a sunny site / Will tolerate very hard frosts.
Immaculate / Magnificent / Structure / Texture
Shrubs
Prostrate or creeping.