Mazus 'Matapouri bay'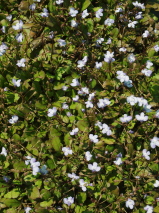 CATALOGUE DESCRIPTION
Delightful mat forming native perennial. Exquisite white and purple with a yellow throat in spring. Flowers best in sunny site that does not dry out.

Mazus
Species
Cultivar 'Matapouri bay'
Swamp musk
Mazaceae
DETAILS
10 cm
50 cm
(expected growth in average NZ conditions in 5 to 10 years)
Perennials
Small, height up to 0.6 metres.