Aloe striata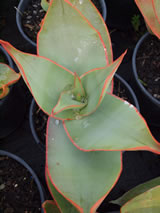 CATALOGUE DESCRIPTION
A beautiful succulent forming a rosette shape. Large fleshy grey-green leaves with a red margin. Tall stems clothed in coral-red flowers appear in the winter. This plant prefers protection from heavy frost, a sunny site. Looks really good in pots. Must be in well drained soil.

Aloe
Species striata
Cultivar
Coral Aloe
Liliaceae
South Africa
DETAILS
1 m
1 m
(expected growth in average NZ conditions in 5 to 10 years)
Evergreen
Grows in most soil types
Must be well drained / Tolerates dry soils
Avoid frosty sites / Prefers a sunny site / Tolerates coastal sites / Tolerates exposed sites.
Nourishment / Structure
Succulents
Medium, height between 0.23 and 1 metre.
All our current stock has been dispatched out to retailers. If they have none left for you, we are growing another crop to supply as soon as possible.
Where to buy our plants