Bougainvillea glabra 'Magnifica Trailli'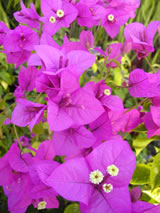 CATALOGUE DESCRIPTION
This climbing sub-tropical shrub is one of the showest plants. It climbs by means of its thorns which spring through to autumn develop into brilliant glowing magenta flowers.These flowers cover the plant for a long season. Planted on the sunny side of a fence, pergola, trellis or old tree if allowed willl completely cover the support. Great for creating a 'fedge', a hedge supported by a fence. Avoid frosty areas.

Bougainvillea
Species glabra
Cultivar 'Magnifica Trailli'
Paper flower
Nyctaginaceae
South America
DETAILS
5 m
5 m
(expected growth in average NZ conditions in 5 to 10 years)
Semi-evergreen
Needs well drained soil
Water well in summer / keep dry in winter
Prefers a sunny site / Tolerates coastal sites / Tolerates some frost
Paradise / Sanctuary / Texture
Climbers
Long scandent stems or hooked thorns.