Wisteria floribunda 'Snow Showers'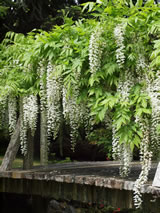 CATALOGUE DESCRIPTION
A most vigorous and beautiful climber. Known as 'Shiro Noda' in Japan. This plant flowers in late spring as the pale green leaves emerge. Leaves turn a dark green. The flower racemes are 45 cm long, densely packed with white flowers with a yellow blotch. Flowers have a faint scent. Very hardy. Prune after flowering and in the winter if necessary. Good for pergolas where the flowers can hang down. Famous specimen in Monet's garden.

Wisteria
Species floribunda
Cultivar 'Snow Showers'
Japanese wisteria
Leguminosae
Japan
DETAILS
10 m
3 m
(expected growth in average NZ conditions in 5 to 10 years)
Deciduous
Grows in most soil types
Soil must be well drained
Prefers a sunny site / Will tolerate very hard frosts.
Magnificent / Nourishment / Sanctuary / Whimsical
Climbers
Twining stems or curling tendrils, over 5 metre.
All our current stock has been dispatched out to retailers. If they have none left for you, we are growing another crop to supply as soon as possible.
Where to buy our plants