Beilschmiedia taraire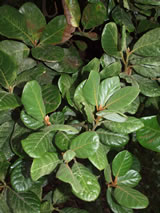 CATALOGUE DESCRIPTION
An handsome large native tree. Rounded dark green leaves emerge with a rusty brown look. Forms a tall narrow crown. White flowers are followed by purple-black fruit favoured by wood pigeons. Maori used the kennels for food. Protect from frost while young, tolerates dry once it is established.

Beilschmiedia
Species taraire
Cultivar
Taraire
Lauraceae
New Zealand
DETAILS
10 m
3 m
(expected growth in average NZ conditions in 5 to 10 years)
Evergreen
Needs well drained soil / Prefer good loamy soil
Prefers even moisture / Tolerates dry soils
Grows in sun or semi-shade / Tolerates coastal sites / Tolerates some frost
Indigenous / Magnificent / Nourishment / Texture
Trees
Medium 10 to 18 metre.