Hebe 'Champion'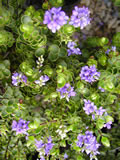 CATALOGUE DESCRIPTION
(syn Hebe 'Champseiont'). A shrub with an open upright habit and long erect stems. The small, glossy, dark green leaves are cup-shaped, they turn purple in winter. In the spring the tips of the branches are covered with small racemes of violet flowers, fading white. It grows best in a sunny site, in well drained soil. Performs well if clipped after flowering to maintain it's dense shape. Hardy.

Hebe
Species
Cultivar 'Champion'
Hebe
H. 'Autumn Glory' x unknown
Scrophulariaceae
New Zealand
DETAILS
60 cm
60 cm
(expected growth in average NZ conditions in 5 to 10 years)
Evergreen
Grows in most soil types / Needs well drained soil
Tolerates dry soils
Grows in exposed or coastal sites. / Prefers a sunny site / Will tolerate moderate frosts
Indigenous / Nourishment / Whimsical
Shrubs
Dwarf, height 0.3 and 1 metre.