Xeronema callistemon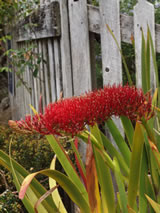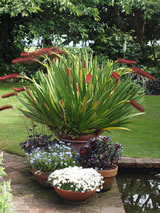 CATALOGUE DESCRIPTION
An evergreen perennial which forms a large clump of stiff, mid-green sword-like leaves. Giant 20 cm long toothbrush like vivid red flowers on tall stems are spectacular. Must have perfect drainage without a hint of waterlogging to survive, however do not allow to dry out too much. Needs full sun and protection from frost. Well worth the effort to establish.

Xeronema
Species callistemon
Cultivar
Poor Knights Lily
Liliaceae
New Zealand
DETAILS
50 cm
50 cm
(expected growth in average NZ conditions in 5 to 10 years)
Evergreen
Needs well drained soil
Prefers even soil moisture
Grows in exposed or coastal sites. / Prefers a sunny site / Will tolerate light frost only
Enthusiast / Indigenous / Nourishment / Structure / Texture
Perennials
Medium, height 0.6 to 1.2 metres.
We have this currently available in a POT 1.5 & POT 3.5 containers. Ask for them at your retailer.
Where to buy our plants