Vitex lucens.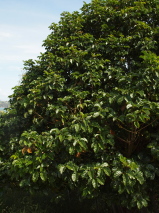 CATALOGUE DESCRIPTION
Handsome New Zealand tree with attractive lustrous green wavy edged leaves. Abundant reddish flowers appear in clusters in spring followed by large bright red fruits. Fruits delicious for native birds. Frost tender when young, but hardier with age. Prefers good soil, but will tolerate dry conditions. Good coastal tree.

Vitex
Species lucens.
Cultivar
Puriri
Verbenaceae
New Zealand
DETAILS
10 m
3 m
(expected growth in average NZ conditions in 5 to 10 years)
Evergreen
Grows in most soil types / Prefer good loamy soil
Prefers even soil moisture
Grows in sun or semi-shade / Tolerates coastal sites / Tolerates some frost
Trees
Medium 10 to 18 metre.