Tibouchina grandiflora.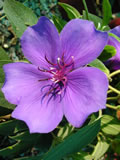 CATALOGUE DESCRIPTION
Beautiful Brazilian lasiandra shrub with attractive dark green foliage. Exuberant displays of large vivid royal purple flowers mostly in the warmer months, but can flower all year around in a really warm site. Easily grown in light frost areas, in good soil. Trim to maintain a bushy shape.

Tibouchina
Species grandiflora.
Cultivar
Lasiandra
Melastomataceae
Brazil
DETAILS
2 m
1 m
(expected growth in average NZ conditions in 5 to 10 years)
Evergreen
Grows in most soil types / Needs well drained soil
Prefers even soil moisture
Grows in sun or semi-shade / Tolerates coastal sites / Will tolerate light frost only
Paradise / Sanctuary / Texture / Whimsical
Shrubs
Medium, height between 1.5 to 3 metres
All our current stock has been dispatched out to retailers. If they have none left for you, we are growing another crop to supply as soon as possible.
Where to buy our plants