Thryptomene saxicola 'Rosea'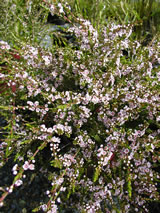 CATALOGUE DESCRIPTION
Delightful small shrub with a graceful weeping growth habit, long slender stems and dense green tiny narrow leaves. Masses of dainty pink flowers in small sprays cover the branches mid-winter into spring. Excellent for floral work. Best in sun or semi-shade, in a sheltered site. Needs soil with good drainage. Hardy to cold.

Thryptomene
Species saxicola
Cultivar 'Rosea'
Rock heath myrtle
Myrtaceae
Australia
DETAILS
1 m
1 m
(expected growth in average NZ conditions in 5 to 10 years)
Evergreen
Grows in most soil types / Needs well drained soil / Prefer good loamy soil
Prefers even moisture / Tolerates dry soils
Grows in sun or semi-shade / Will tolerate light frost only
Sanctuary / Whimsical
Shrubs
Dwarf, height 0.3 and 1 metre.