Sollya heterophylla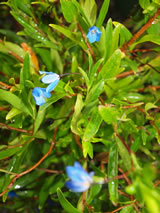 CATALOGUE DESCRIPTION
Elegant climbing shrub that will trail over fences, banks or walls. Small long bright green glossy leaves, on wiry twining stems. Graceful brilliant blue bell-like flowers in summer. Best in a warm sunny site, avoid heavy frost. Use as a small climber or may use as a small hedge.

Sollya
Species heterophylla
Cultivar
Australian bluebell
Pittosporaceae
Australia
DETAILS
1 m
1 m
(expected growth in average NZ conditions in 5 to 10 years)
Evergreen
Grows in most soil types / Prefer good loamy soil
Soil must be well drained
Frost hardy / Grows in sun or semi-shade / Tolerates coastal sites
Immaculate / Sanctuary / Texture / Whimsical
Climbers
Twining stems or curling tendrils, under 5 metre.