Skimmia japonica Male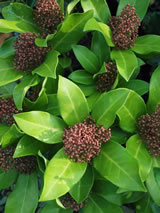 CATALOGUE DESCRIPTION
A stiff dense mound forming shrub. Obovate green broad leaves. Large clusters of abundant small sweetly scented white flowers in spring and summer. This is a male form so will help a female form produce more berries if planted near this plant. They grow best in partial shade on well drained but good soil, with adequate moisture. Not as many flowers result if planted in heavy shade. Hardy to cold.

Skimmia
Species japonica
Cultivar Male
Skimmia
Rutaceae
China
DETAILS
1 m
1 m
(expected growth in average NZ conditions in 5 to 10 years)
Evergreen
Prefers good loamy soil
Avoid dry soils / Soil must be well drained
Prefers a semi-shaded site / Will tolerate very hard frosts.
Immaculate / Magnificent / Nourishment / Sanctuary / Texture / Whimsical
Shrubs
Dwarf, height 0.3 and 1 metre.
All our current stock has been dispatched out to retailers. If they have none left for you, we are growing another crop to supply as soon as possible.
Where to buy our plants