Scleranthus biflorus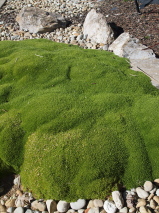 CATALOGUE DESCRIPTION
Forms a dense bright green mat, on a single root system. Like a cushion. Very small over lapping leaves. Tiny single flowers followed by fruit on short stalks. Prefers an open sunny site with reasonable soil that does not get too dry. Great growing in amongst rocks, on garden edges. Do not allow other plants to shade it out.

Scleranthus
Species biflorus
Cultivar
Mossy scabplant
Caryophyllaceae
New Zealand
DETAILS
5 cm
50 cm
(expected growth in average NZ conditions in 5 to 10 years)
Evergreen
Prefers good loamy soil
Avoid dry soils
Grows in sun or semi-shade / Tolerates exposed sites. / Will tolerate very hard frosts.
Immaculate / Indigenous / Sanctuary / Texture
Perennials
Small, height up to 0.6 metres.
All our current stock has been dispatched out to retailers. If they have none left for you, we are growing another crop to supply as soon as possible.
Where to buy our plants