Rhopalostylis sapida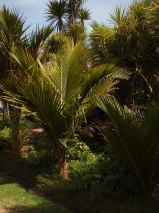 CATALOGUE DESCRIPTION
New Zealand's distinctive Nikau palm. It has a leaf scarred trunk and a spreading crown of dark green fronds. These emerge erect and gracefully weep with age. At the base of the leaves the inflorescence is crowded with purplish lilac flowers, followed by bright red seeds. Nikaus need protection from frost and strong winds. They do grow in most soils, however best in deep, moist, rich soil, otherwise can be slow growing. Great for coastal sites.

Rhopalostylis
Species sapida
Cultivar
Nikau Palm
Palmae
New Zealand
DETAILS
3 m
2 m
(expected growth in average NZ conditions in 5 to 10 years)
Evergreen
Grows in most soil types / Needs well drained soil / Prefers good loamy soil
Prefers a semi-shaded site / Tolerates coastal sites / Will tolerate light frost only
Enthusiast / Immaculate / Indigenous / Magnificent / Nourishment / Paradise / Sanctuary / Structure / Texture / Whimsical
Palms
Large, over 3 metres.
We have this currently available in a POT 2.5 & Pot 6 lt & POT 3.5 containers. Ask for them at your retailer.
Where to buy our plants