Rhododendron 'Harry Tagg'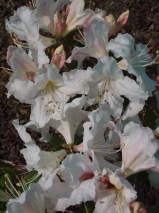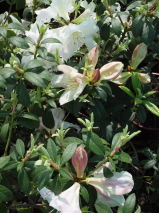 CATALOGUE DESCRIPTION
Compact shrub which forms a rounded shape. Long, narrow, strap-like leaves, hairy, green foliage. Trumpet shaped flowers are white tinged pink, faintly marked greenish white on upper lobes. Flowers freely in October. Slightly frost tender, needs shelter from wind. Prefers semi-shade, and good soil that does not get too dry.

Rhododendron
Species
Cultivar 'Harry Tagg'
Rhododendron
R. 'Albescens' x R. ciliicalyx
Ericaceae
China
DETAILS
1 m
1 m
(expected growth in average NZ conditions in 5 to 10 years)
Evergreen
Prefers acidic / lime-free soil. / Prefers good loamy soil
Prefers even soil moisture
Must be sheltered from wind. / Prefers a semi-shaded site / Tolerates light frost only
Shrubs
Small, height between 1 and 1.5 metres.
All our current stock has been dispatched out to retailers. If they have none left for you, we are growing another crop to supply as soon as possible.
Where to buy our plants