Pyracantha Shawnee'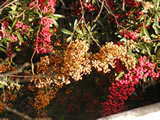 CATALOGUE DESCRIPTION
Extremely hardy shrub with attractive glossy green foliage. Masses of white flowers in spring, loved by bees. Yellow berries in Autumn and winter. Wonderful to espalier against a wall or fence, so beautiful when in berry. Trim extra vegetative growth off after flowering leaving berries to show. Avoid planting in very hot dry sites. Very hardy to cold.

Pyracantha
Species
Cultivar Shawnee'
Firethorn
P. crenatoserrata x P. koidzumii
Rosaceae
Europe/China
DETAILS
1.5 m
1.5 m
(expected growth in average NZ conditions in 5 to 10 years)
Evergreen
Grows in most soil types / Needs well drained soil
Avoid dry soils
Grows in sun or semi-shade / Tolerates coastal sites / Will tolerate very hard frosts.
Immaculate / Nourishment / Structure / Texture
Shrubs
Medium, height between 1.5 to 3 metres