Pseudopanax laetus.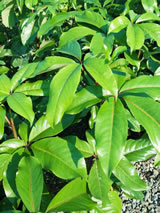 CATALOGUE DESCRIPTION
Large handsome shrub with a bushy habit. Attractive large dark green glossy leaves have a sub-tropical appearance in good conditions. Hardy, though young growth burns off if the frosts are heavy. Occurs naturally in the North Island in hill, montane and subalpine forests. Prefers a sheltered semi-shaded site with good soil for the most lush foliage. Good for large tubs.

Pseudopanax
Species laetus.
Cultivar
Pseudopanex
Araliaceae
New Zealand
DETAILS
3 m
2 m
(expected growth in average NZ conditions in 5 to 10 years)
Evergreen
Grows in most soil types / Prefers good loamy soil
Soil must be well drained / Tolerates dry soils
Grows in sun or shade / Will tolerate moderate frosts
Indigenous / Magnificent / Nourishment / Paradise / Sanctuary / Texture
Shrubs
Large, over 3 metres.
We have this currently available in a PB 28 & PB 6.5 containers. Ask for them at your retailer.
Where to buy our plants