Pseudopanax ferox.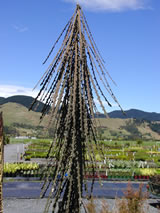 CATALOGUE DESCRIPTION
A small round headed tree. As a juvenile it does not have branches, just a single stem with distinctive long narrow rigid very sharply toothed green to brown mottled leaves. As it matures the adult foliage is shorter and broad, dark olive-green and leathery, the trunk then branches at the top to form a round bushy top. It has smooth fluted bark. Clusters of greenish flowers are followed by brown fruit. More common in the South Island. Best planted with well drained soil, hardy.

Pseudopanax
Species ferox.
Cultivar
Lancewood
DETAILS
4 m
1 m
(expected growth in average NZ conditions in 5 to 10 years)
Evergreen
Grows in most soil types / Prefers good loamy soil
Soil must be well drained
Grows in part or full shade. / Grows in sun or semi-shade / Will tolerate very hard frosts.
Immaculate / Indigenous / Magnificent / Nourishment / Structure / Texture
Trees
Small 4.5 to 9 metres.