Pseudopanax crassifolius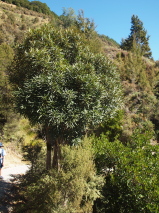 CATALOGUE DESCRIPTION
A small round headed tree. As a juvenile it does not have branches, just a single stem with distinctive long narrow rigid sharply toothed green to brown leaves. As it matures the adult foliage is shorter and broad, green and leathery, the trunk then branches at the top to form a round bushy top. It has smooth fluted bark. Clusters of greenish flowers are followed by brown fruit. Common in lowland to lower montane forests throughout New Zealand. Best planted with well drained soil, hardy.

Pseudopanax
Species crassifolius
Cultivar
Lancewood, horoeka
Araliaceae
New Zealand
DETAILS
5 m
1 m
(expected growth in average NZ conditions in 5 to 10 years)
Evergreen
Grows in most soil types / Prefers good loamy soil
Soil must be well drained / Tolerates dry soils
Grows in part or full shade. / Grows in sun or semi-shade / Tolerates exposed sites. / Will tolerate very hard frosts.
Immaculate / Indigenous / Magnificent / Nourishment / Sanctuary / Structure / Texture
Trees
Small 4.5 to 9 metres.
All our current stock has been dispatched out to retailers. If they have none left for you, we are growing another crop to supply as soon as possible.
Where to buy our plants