Podocarpus totara 'Aureus'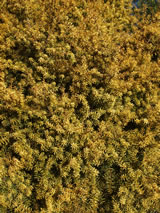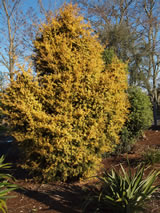 CATALOGUE DESCRIPTION
A large tree with thick, furrowed bark. Matures to a handsome round headed specimen. The leaves are golden-yellow though go green in the shade. Prefers soils with good moisture. Very hardy. Occurs naturally throught New Zealand, common in lowland, montane and lower subalpine forests. The fruit provides food for native birds. Suitable to use as a hedging plant.

Podocarpus
Species totara
Cultivar 'Aureus'
Golden Totara
Podocarpaceae
New Zealand
DETAILS
12 m
3 m
(expected growth in average NZ conditions in 5 to 10 years)
Evergreen
Grows in most soil types / Prefers good loamy soil
Prefers even soil moisture
Grows in sun or semi-shade / Tolerates exposed sites. / Will tolerate very hard frosts.
Indigenous / Magnificent / Nourishment / Texture
Trees
Large over 18 metres.