Pieris japonica 'Tickled pink'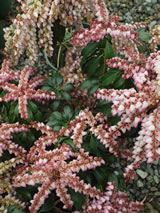 CATALOGUE DESCRIPTION
syn. 'Christmas Cheer'. Decorative colourful evergreen shrub. Forms a bushy shrub with rich green leaves. New growth in spring is a colourful bronze before turning deep green. Dense panicles of bicoloured white and deep rose-red waxy flowers cover the shrub in spring. Flowers earlier than other Pieris. Grows best in good soil that does not get too dry, and semi-shaded site. Hardy to cold.

Pieris
Species japonica
Cultivar 'Tickled pink'
Lily of the valley shrub
Ericaceae
China
DETAILS
1.5 m
1 m
(expected growth in average NZ conditions in 5 to 10 years)
Evergreen
Grows in most soil types / Needs well drained soil / Prefers acidic / lime-free soil.
Prefers even soil moisture
Prefers a semi-shaded site / Will tolerate very hard frosts.
Sanctuary / Texture / Whimsical
Shrubs
Medium, height between 1.5 to 3 metres
All our current stock has been dispatched out to retailers. If they have none left for you, we are growing another crop to supply as soon as possible.
Where to buy our plants